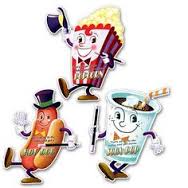 Fans and followers of Actors Rep know that we have been exploring the delicious world of café theatre over the last year-and-a-half or so. In February 2014, we presented A.R. Gurney's 'Love Letters' at the Art Café (now sadly closed). Audiences saw a great show and were able to enjoy some of the Art Café's delicious food and drinks.
In June 2015, we presented Daryl Lisa Fazio's remarkable play 'Greyhounds' at the café Nature Elements Am Garage. And at the end of June, we supported Producing Director Timothy Lone and Alan Cox's improvisational performance of 'Lunch on the Go' at Come à la Maison Italian restaurant — also located at Am Garage.
Up next in October — again at Nature Elements — is Donna Hoke's terrific 'Flowers in the Desert', about an ex-husband and wife, who, in a series of dates (mostly in cafés), explore trying one more time. Audiences can once again enjoy a great evening of theatre followed by a great meal from Nature Elements.
Great theatre and great food — what a marvellous combination. Theatre producers have recognised this for ages. In Shakespeare's day, audiences could eat and drink (and do a few other less savoury things). Brecht supposedly thought theatre audiences should be able to eat drink (and smoke!) during performances.
On a recent three-week trip to the southeastern US, I had a chance to see a couple of fascinating and incredibly entertaining variations on the idea. In Atlanta, we attended a production of 'As You Like It' at The New American Shakespeare Tavern, home to the Atlanta Shakespeare Company. The company was founded by Artistic Director Jeff Watkins in 1984, when they began performing Shakespeare, first at an Atlanta landmark bar, Manuel's Tavern. (I saw their 1985 production of 'Much Ado About Nothing' during a six-month stint there.)
The Tavern opened in 1990. It is an indoor, Globe-inspired theatre space. Audiences sit at tables and can feast on an English-pub-meal inspired variety of comestibles and beverages before and during the show.
The CSC works in 'Original Practice', which they explain on their website as 'a process that begins with the way the play was originally staged in its own time and ends with a modern audience experiencing the play in a manner consistent with its creator's original intent' (www.shakespearetavern.com).
With 'As You Like It', this meant a highly energetic, very physical, very very very funny and accessible production. I've seen at least three previous productions of the play and have never enjoyed it as much as this one.
And the food was delicious. (Try the Cream Cheese Chocolate Chip Brownies!)
In Charleston, South Carolina (y'all!), we visited the 34 West Theater Company and saw the delightful 'Groovy Kinda' Love', an original jukebox musical featuring 1960s pop songs — From The Beach Boys to Aretha Franklin and everything in between. Sweeties and snacks (including four kinds of popcorn!) and beverages of all sorts were available for munching before and during the show — which was a huge amount of fun. The cast all had fine voices and excellent comic timing. We laughed, we sang along, we ate fistfuls of M&Ms…
34 West was founded by Stephen Wayne and Jeff Querin, who spent over a decade touring, performing and producing original shows — Off-Broadway, in bars, once in a prison — until landing in Charleston and converting a former yoghurt shop to their fun little cabaret / café theatre space. Their website says: 'Our shows are crafted to help you relax, unwind and laugh with friends — fun drinks and savory bites are standing by.' (www.34west.org)
We had a blast at both places and it made me think about our own efforts to provide a fantastic theatrical experience in a setting where our audiences can also enjoy some wonderful food. We're delighted and honoured to have the opportunity and we hope everyone will come see 'Flowers in the Desert' and stay afterwards for a terrific meal.
Great theatre, a little nosh… together again.
'Flowers in the Desert', by Donna Hoke
Directed by Timothy Lone
With Christine Probst and Erik Abbott
October 2, 3, 5, 8, 9, 10 at 19h30
October 4 & 11 at 18h00
NOTE: SOME DATES AND TIMES HAVE CHANGED
Nature Elements Am Garage (inside Robin du Lac)
70, Route d'Esch, Luxembourg