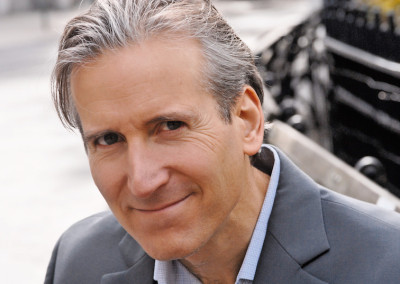 Peter ZAZZALI
Artistic Associate
Peter Zazzali is a theatre director, actor, and scholar whose work is recognized internationally. He is an Associate Professor of Theatre and the Associate Chair of the Department of Theatre at the University of Kansas (KU), where he teaches acting and directing and directs for the department. He is also the Artistic Director of Kansas Repertory Theatre (KRT), a professional theatre company that presents productions every summer on the KU campus.
Peter has acted and directed in over 150 productions with institutions such as The Acting Company, The Guthrie Theater, George Street Playhouse, Western Australian Academy for the Performing Arts, and the New Jersey, Texas, and Utah Shakespeare Festivals.
A great supporter of and advocate for Actors Rep, Peter came to Luxembourg to direct The Fever in 2016 and to conduct a workshop on 'Psycho-Physical Approaches to Acting'. He returned in 2017 to direct the world premiere of Dear Santa… Most recently, in June 2018, he appeared as Nick in the Actors Rep production of The Guys, by Anne Nelson, opposite Associate Artistic Director Christine Probst, before returning to the US to direct Matthew Lopez's The Legend of Georgia McBride for KRT.
In 2019 Peter will be travelling as a Fulbright Scholar to Wellington, New Zealand, for a Residency at Toi Whakaari, the National Drama School of New Zealand. There he will be directing, teaching, and doing research for his next book, Drama School: A Survey of Professional Actor Training in Anglophone Countries. The highly prestigious Fulbright Scholarships were established in 1946 as part of the Fulbright Program 'to increase mutual understanding and support friendly and peaceful relations between the people of the United States and the people of other countries'. The Program offers US scholars (as well as professionals, artists, journalists, scientists, lawyers, independent scholars and others) teaching and research awards in over 125 countries.
Peter's scholarship has appeared in numerous peer-reviewed journals and prominent theatre magazines such as Theatre Topics, Journal of American Drama and Theatre, Journal of Dramatic Theory and Criticism, PAJ: A Journal of Performance and Art, Voice and Speech Review, American Theatre, CIBS (Communications from the International Brecht Society), The European Legacy, Western European Stages, and Theatre Journal. His research areas include acting theory, actor training, sociology of theatre, and the history of the US not-for-profit theatre. His book, Acting in the Academy: The History of Professional Actor Training in US Higher Education was released by Routledge in 2016.
He holds a BFA in Acting from CalArts, an MFA in Acting from the University of Delaware, and a Ph.D. in Theatre Studies from the City University of New York (CUNY) Graduate Center. He is a member of Actors Equity Association, SAG-AFTRA (Screen Actors Guild‐American Federation of Television and Radio Artists), and the SDC (Stage Directors and Choreographers Society).
In addition to KU, Peter has taught a wide range of courses at institutions such as the Western Australian Academy of the Performing Arts, American Musical and Dramatic Academy, the American Academy of Dramatic Arts, Colby College, CUNY, and Cornell University.
For more information about Peter, please visit his website: http://peterzazzalidirector.com