Do You Want to Know a Secret?
by Daniel Pinkerton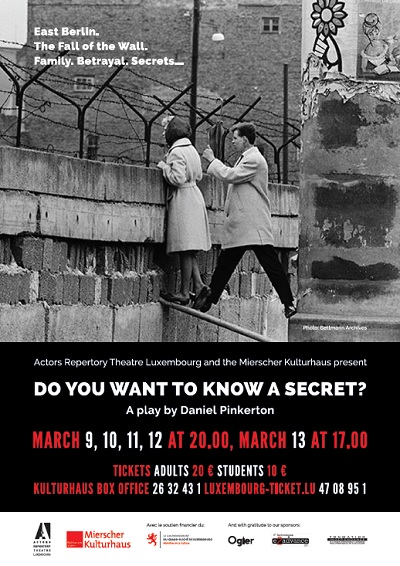 The Story
Who can you trust?
Family. Betrayal. Secrets. Berlin, the waning years of the Cold War:
The Berger family is unwittingly caught in the politics, fear and paranoia of a society in which everyone just may be spying on everyone else. Who can be trusted in an environment of seemingly universal betrayal?
Walter Berger passionately loves his wife, Karin, and their daughter, Erika, and wants to get on with their lives. Karin wants to change the world – starting with the German Democratic Republic.
Politics, family, love, betrayal, fear and paranoia collide in Daniel Pinkerton's award-winning play Do You Want to Know a Secret?
A quarter of a century after the Wall came down, this taut and moving drama about one family's struggles with betrayal resonates profoundly with our own era of Edward Snowden and identity theft.
Who can you trust?
Cast & Creative team
Rhona Richards plays Karin Berger- Read bio
Timothy Lone plays Walter Berger- Read bio
Sarah Lamesch plays Erika- Read bio
Gilbert K. Johnston plays Wolf Niedermann- Read bio
Christine Probst plays Anja Hornung – Read bio
Directed by Erik Abbott – Read bio
Assistant Director – Julie Fraser
Videographer – Mark Russell
Location
Mierscher Kulturhaus Kulturhaus Asbl,
53 r. Grande-Duchesse Charlotte,
7520 Mersch
If you'd like to read more about the production, see our Secret Blog Posts.
Leave some comments if you like and share the news.