Trust Truth!
Actors Repertory Theatre Luxembourg (Actors Rep) is excited to announce Actors Lab and Acting Classes with Christine Probst.
Laboratory: A safe place of experimenting, exploring, success, failure, imagination and fun.
Have you ever watched a play or a film and thought, 'I don't believe them!' ?
Well. We are going to search for truth. At the actor's core is truth, truth about the character and, more importantly, oneself. To find the truth of the character you must be confident in your own truth.
We will explore in weekly classes the actor's truth. Truth in body, truth in voice and truth in being.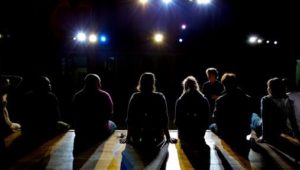 The classes are geared for every level and experience, ages 15 and up.
Progress is only possible through commitment — commitment to the classes, commitment to the work (in and out of the classes), commitment to the other members of the class, and commitment to yourself.
Requirements for the first class: a sturdy notebook — something you will love to use, everyday, and loose, comfortable clothing.
Beginning Tuesday, 24 January at Vedanza, 18 rue de Louvigny, L-1946, Luxembourg.
Classes continue 31 January, 7 February, 14 February, 28 February and 7 March (Tuesdays).
Classes meet from 7pm – 10pm.
Cost: € 300 (€ 50 discount if payment received by 3 January).
To register or for additional information, contact Erik Abbott at Actors Rep: ActorsRep.Erik@gmail.com
Christine Probst is a professionally trained actress with over 20 years of experience, she holds a BFA (Bacheors of Fine Art) in Acting from the University of Cincinnati College-Conservatory of Music. She studied (and continues to study) Voice and Movement with the Centre Artistique International Roy Hart. Christine has acted professionally in Luxembourg (Actors Rep, Théâtre National du Luxembourg, Théâtres des Capucins / Luxembourg Ville) and the United States (ActOut Productions, Rosebriar Shakespeare, and the Reality Theatre, among others).
She has taught a variety of levels and ages in acting for over 10 years, including for the Luxembourg Accueil and the Lycée des Garçons in Esch-sur-Alzette, and founded the Youth Theatre programme for the New World Theatre Club. Christine's teaching incorporates several different methods and techniques to help the actor find his or her path to understanding the character. She believes that not one single method or style of acting is for every actor. Christine will take the actor through a series of exercises related to relaxation and imagination, as well as extensive voice and body work to free the actor's physicality and develop a sense of being fully present onstage.