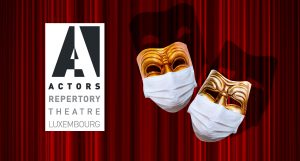 Greetings again (after long silence) from Actors Repertory Theatre Luxembourg.
We hope that you and your families and friends are safe and well.
It's been quite a year-and-a-half.
You haven't heard from us in quite a while, but we are still plugging away, trying to create great professional English-language theatre — something we hope to be doing in spaces with live audiences soon.
Until then, we have a quick update on a bit of news about what we've been doing.
In 2019, we had planned to take our hit show, #WTF Happened? On the Phenomenon of Trump to the Edinburgh Fringe Festival. We had a venue lined up, with 20 performances planned, and we were very excited about bringing our most-seen show to yet another group of audiences in yet another country.
But the required funding did not materialise — we fell far short of our goal and had to cancel the project.
We were already in discussion about co-producing a new play, Second Zechariah (by Actors Rep Artistic Director Erik Abbott), with a theatre company in the US — and we plan to present it both there and in Luxembourg. Those conversations have continued from time to time and we hope that fulfilling the project in the not-too-distant future will soon be possible.
Until then, the Clamour Theatre, in Florida, is doing a staged reading of the play on Sunday, June 20th, 2021, on Zoom, at 8pm (20.00) Luxembourg time. The event is free, but reservations are required. A link is below, along with a link to an interview with the playwright conducted by Elaine Smith, Clamour's Artistic Director.
Back in the Grand Duchy, and in Minnesota, and in France, Actors Rep is working (with actors in three countries across seven times zones) on video productions of three new one-act plays for one, probably two, possibly more festivals and online events, starting in August 2021. More will be posted here and on our Facebook page as the events draw nearer.
We will be back. 
We are back.
♪♪ Actors Rep is back and there's gonna be theatre… ♪♪
Link to details about the Clamour Theatre reading of Second Zechariah:
Link to interview with playwright: