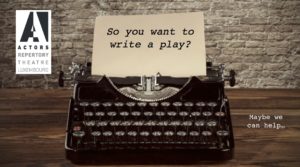 Actors Repertory Theatre Luxembourg (Actors Rep)
announces
THE GREAT LUXEMBOURG PLAY BAKE-OFF
A fun, two-part playwriting workshop.
First Meeting: Thursday, October 18 / 7.30pm (19.30) – 10.30pm (22.30)
Second Meeting: Saturday, October 27 / 10am (10.00) – 4pm (16.00)
At Bamhaus: 18A / 18D rue de la Cimenterie, L-1337 Luxembourg-Dommeldange
What is a 'Play Bake-Off?'
In 1984 a group of playwrights, including Pulitzer Prize winning Paula Vogel (How I Learned to Drive, The Baltimore Waltz, Indecent), met in a New York City loft to 'complain' about their careers. In frustration, they decided to create a 'formula'—a recipe for what might make a successful new play. They came up with a list of ingredients and went home, each to write a play in 48 hours using those ingredients. They called it 'The Great American Play Bake-Off'.
Vogel has since led numerous 'Bake-Off' events and inspired many others to do the same.
Now Actors Rep is bringing the idea to Luxembourg.
The 'Play Bake-Off' exercise is for playwrights of all levels who want a fun opportunity to write a new play just for the joy of doing it.
Participants will meet twice.
At the first meeting, we'll talk about plays and playwriting, do a short writing exercise to awaken our writing muscles, and will be given a short list of 'ingredients' for a new play. We'll then go away and write a play, using all the 'ingredients' on the list.
We'll meet a second time and share our work, read scenes aloud, enjoy the work, and share our experiences with the process.
Playwright / actor / director Erik Abbott will facilitate the Bake-Off.
Please join us!
Cost: 75 €
Registration and information: ActorsRep.Erik@gmail.com
Space is limited.